Redrocks Amphitheater
Morrison, CO
September 5, 2016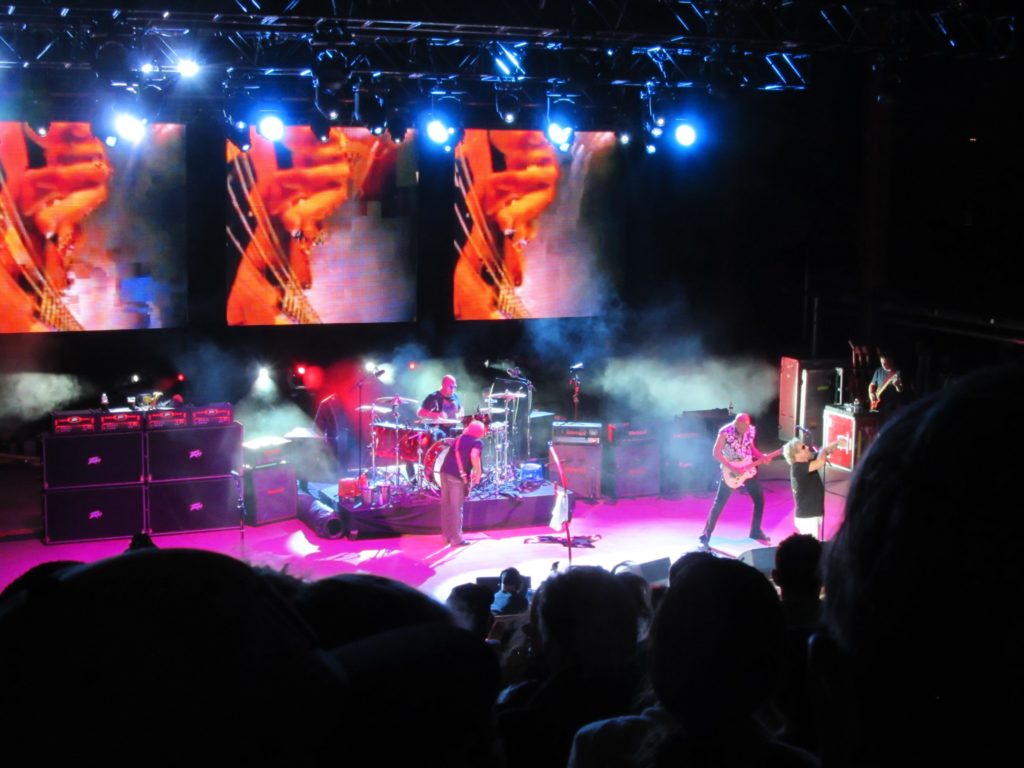 You can say what you want about Sammy Hagar—that he's a god, that he's a clown, that he's amazing, that he's egotistical, that he's washed-up, that he's an incredible person… we all have our own opinion, and I'm going to try to remain objective here, but having had the immense pleasure of seeing Sammy and his latest band, The Circle, perform at Redrocks recently was such a delight that I just had to share my thoughts.
It had been the culmination of a super crazy week for me, having worked 12-hour days for the Labor Day weekend and, not being a spring chicken myself anymore, trying to deal with the agony of my vehemently protesting knees, but when The Circle exploded onto the stage with "There's Only One Way to Rock", where I could barely walk just moments before, I found myself dancing (as best I could) and wishing I'd had more space in which to move. Oh my God! The music blew the roof off the building! Oh wait—there was no roof. Or building.
I've seen Sammy perform with Van Halen, The Wabos, Chickenfoot and others, and while I never got to see Van Halen in their prime, (I saw them in 2004 during their reunion tour—don't get me started) and although I love all his previous bands, I have to say that I think I enjoyed The Circle the other night most of all. Maybe it's because I'm also a huge fan of Led Zeppelin.
With Sammy on lead vocals, Michael Anthony (former bassist of Van Halen) on bass, Vic Johnson on guitar and Jason Bonham (son of the illustrious John Bonham from Led Zeppelin) on drums, how could this band be anything but spectacular? And they were. Tight. Loud. Sounding like thunder on the rocks.
I expected to hear some Zeppelin tunes and was thrilled with what they chose to play. I loved "Good Times Bad Times," but "When the Levee Breaks" and "Rock and Roll" are two of my all-time favorite Zeppelin tunes and when The Circle performed them, I was swept up into a state of bliss and wonder that matched the fog machine's ambience, and I don't mean stoned. There was just something magical about all of it—Redrocks—with the stars overhead in the warm summer night's sky combined with the towering red-hued boulders on either side of the venue like two giant hands holding audience and performers in an intimate setting of sound and soul and rock and roll so mesmerizing that you just had to experience it to believe it.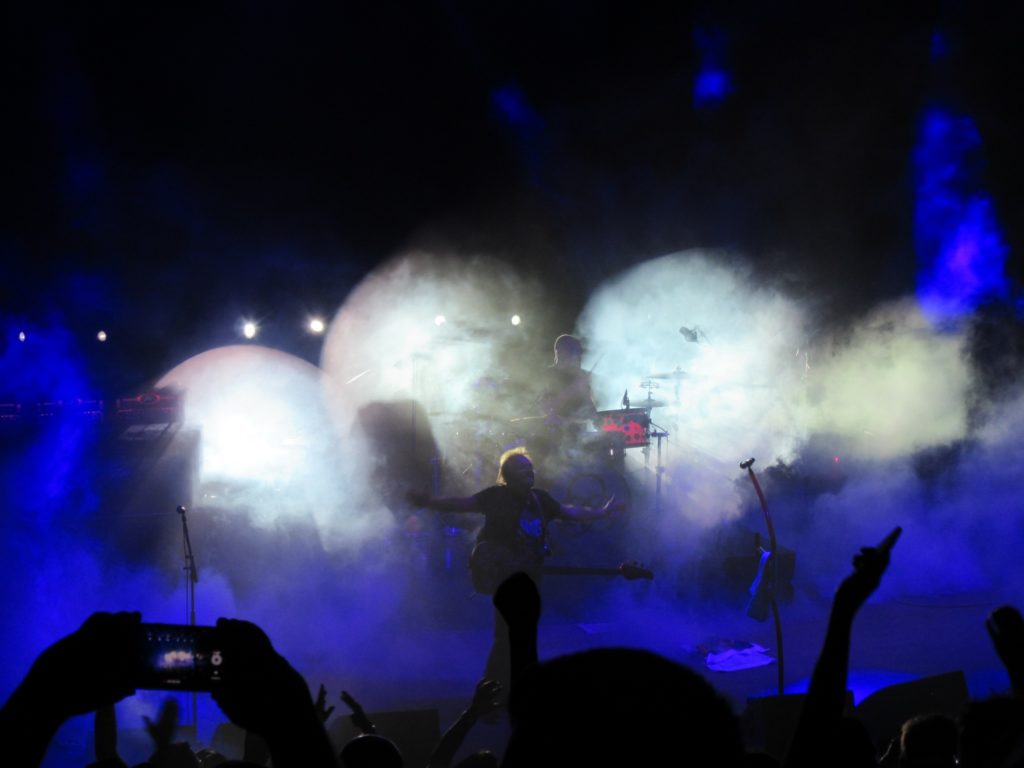 Hagar seemed to feel it too. "This is the most beautiful venue on earth!" he said, extending his arms. "I wish I could have gotten here while the place was empty, climbed to the middle and just sat there in awe and taken it all in."
Indeed. If you've never had the pleasure of seeing a live show at Redrocks, I urge you to go sometime. You won't be sorry. There is nothing like it.
Michael Anthony was as talented as always—with his high pitched, irreplaceable backing vocals that helped make Van Halen great, and his seemingly sheer joy at performing with his buddy Sam.
And although he's not Eddie Van Halen, on guitar, Vic Johnson, who hails from Colorado Springs, CO, never disappoints. He hammered out those songs as easily as if he could do it in his sleep.
There was a moment during the show that really stood out for me though—Sammy's guitar solo during "When the Levee Breaks." I remember talking to Vic years ago and he told me that he'd mentioned to Sammy that he needed to play guitar more, that his fans loved it when he did so, and when I heard that solo during "When the Levee Breaks," that's what came to mind—Damn! Sammy! You need to play guitar more! What a treat!
Although I've seen Sammy in concert more times than I can count, and yes, I suppose I'm a little biased, I am still impressed that he can perform with as much energy as he does. I leaned over to my son, who was there with me, and said, "Can you believe he'll be 70 next year? 70!" You'd never know it. Hagar made it look effortless, and it was obvious that he enjoyed every minute of it.
There was a moment during "Runaround" when Mickey's mic quit working, but it was only a minor distraction. And toward the end of the show, Hagar's voice grew a bit hoarse, but I'm sure it was due to the altitude. I've seen many performers in Colorado have to take hits of oxygen between songs for this reason.
But they didn't let up. Quipped Hagar, "We're not going to go offstage and come back on because I don't want to walk down all those steps to the dressing room and back up them again! So we'll just do it like we're in Cabo. We don't go offstage; we don't do encores in Cabo. We just keep playing until we're done playing."
And they did. The crowd went crazy with applause.
The show ended with an etherial rendition of "Dreams," which is one of my all-time favorite tunes. One year in Cabo, as Sammy was getting ready to perform "Dreams," he announced to the audience about how I had made my dream come true—to be a writer (the video is on the home page of my website, you can see it here) so this song will forever have special meaning for me. And although he's lowered the key, with the magic of the evening overpowering my angry knees, it was truly one of the best shows I've ever seen Sammy do. Then to close with "Rock and Roll"… Give me more!
Setlist:
There's Only One Way to Rock
Rock Candy
Good Times, Bad Times
Poundcake
I Can't Drive 55
Runaround
Right Now
Little White Lie
When the Levee Breaks
Why Can't This Be Love
Finish What Ya Started
Heavy Metal
Mas Tequila
Dreams
When It's Love
Rock and Roll
**All photos property of Patricia Walker, 2016. No unauthorized duplication, please.