If your neighbors claimed to have a ghost "living" in their house, even wrote a book about it and were featured on a national TV show dealing with such phenomena, if given the opportunity, would you want to learn more about said ghost, perhaps even witness it for yourself? Or maybe you don't believe in ghosts and you'd simply consider the entire thing a joke without giving it a second thought.
I think most people are somewhere in the middle–curious about the possibility of otherworldly phenomena, yet skeptical. I'd like to offer you a unique opportunity. Although you may not be able to pay a personal visit to the family who claims to live with this ghost, if you had the chance to ask them any question at all about their situation, what would you ask?
Very shortly, I will be interviewing Ken and Monika Harmon, who claim to have the spirit of a young woman living in their house. In fact, they invited me over to meet their ghost last year. Like most people, I was apprehensive–a bit scared and a whole lot curious. What I witnessed that day convinced me beyond a doubt, that their ghost was real. To read about my spine-chilling experience, please click here: http://www.bajarockpat.net/category/blog/spirits-blog/
The things that happened to me that day raised a lot of questions, such as: how many other things are out there in the world that we can't see with our eyes but have an effect on our lives, whether real or imagined? And wouldn't it be a boring existence for a ghost simply to hang around observing the living? And–can they see us when we're in the shower or making love or???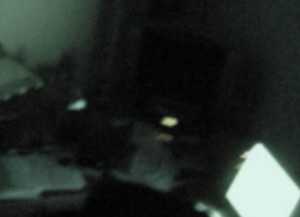 (Actual photo taken inside the Harmon home–ghost is the misty image in bottom center of the photograph.)
I must confess that I am hesitant to visit their home again in order to film the interview,  because my first visit there scared the wits out of me, but for the sake of education, I'm willing to do it anyway.
Here's where YOU come in. What would you like to know about Ken and Monika, or perhaps … Mary Bell Wilson–their resident ghost?
Please submit your questions for Ken, Monika or Mary Bell (please be kind and respectful) in the comments section following this post prior to February 25, 2013. We will choose the most interesting ones and ask them for you. Then sit back in the safety and comfort of your (hopefully ghost-free) home and watch the video we put together of the intervew. Stay tuned to this website for video release date.
For information on the Harmons and their story, please click here: http://ghostunderfoot.com/