During his recent concert at Cabo Wabo in Cabo San Lucas, Mexico on October 9, 2012, Sammy Hagar talked about how important dreams are and how one must never give up on one's dreams. He said that he wouldn't be where he is today if he hadn't held fast to that belief.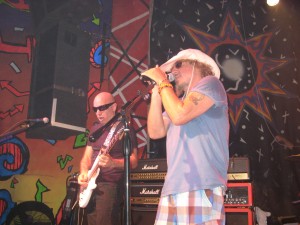 Joe Satriani performs with Sammy Hagar at Cabo Wabo
Then, to my complete surprise, he introduced me to the crowd, saying "I wanna bring up Pat." (Video used with Sammy's permission)
I didn't know if he wanted me to get up onstage with him or if he just wanted to tell people about me. It happened so fast that all I could do was stand there in total disbelief as Sammy came over and grabbed my hand. Then he went on to tell the crowd that speaking of dreams, I was a perfect example of someone who had made her dreams come true. He said that I sent him poems many years ago, beautiful poems, and mentioned that I told him that I wanted to write a book someday about all my incredible experiences. Then he said that I went on to do just that. "She wrote this great book and people bought it…"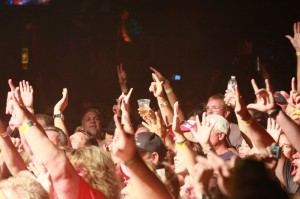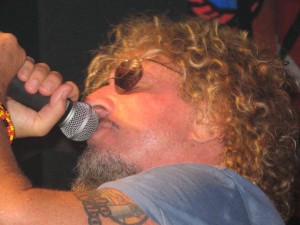 Sammy kept on talking and before I knew it, he was playing "Dreams" slow and low. "Dreams" was the song that started everything for me. It was the song he was playing when I had my out-of-body-experience during his concert back in 2003. I had never heard that song before that night.
By this time, tears were streaming down my face because my emotions were over-the-top. I felt like he was playing that song just for me although I knew he really wasn't. Or was he? (After the show, a member of his road crew told me that "Dreams" wasn't even on the setlist that night.) Then Vic Johnson, Sammy's guitar player knelt down on one knee in front of me while playing his guitar. When I looked up at him, he too, had tears in his eyes…
What a night.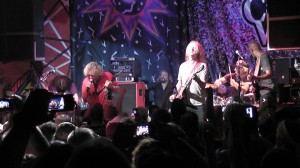 Sammy and his band The Wabos perform with Jerry Cantrell (Alice in Chains) and Matt Sorum (Velvet Revolver) at Cabo Wabo
Sammy also sells my book in the gift shop of his Cabo Wabo Cantina in Mexico:
Since this incredible shout out, sales of DANCE OF THE ELECTRIC HUMMINGBIRD have skyrocketed. Yes, dreams DO come true. I am living proof. Thank you, Sammy!
Just in case you're wondering, you don't have to be a fan of Sammy Hagar or rock music to enjoy this book. It is for ANYONE who is looking for more out of life.