Pepsi Center, Denver, CO
April 2, 2013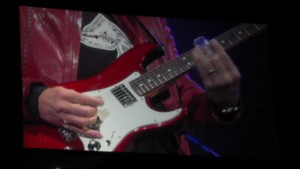 The incomparable Joe Walsh opened the show to a packed house. What's not to love about Joe? Dressed in a dark red leather jacket and black pants, his hair down to his shoulders, he looked great. He sounded great. My only criticism was that he didn't play long enough!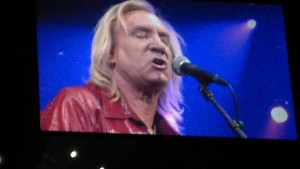 Being a fan since his James Gang days, I loved "Walk Away" and "Funk #49" but the first big cheer from the audience came during "In the City." The entire crowd was on its feet and singing along to "Life's Been Good" and "Rocky Mountain Way." Walsh quipped that if he were president, he'd make that the new National Anthem. When Bob Seger took the stage, he said what a treat it was to hear Walsh perform "Rocky Mountain Way" in Denver. Indeed. Hearing and watching Walsh perform is always a treat for me. "I used to live here," Joe said as he introduced the song. "But I don't remember much about it. They tell me I had a good time." I personally recall those days—hearing about how Walsh recorded and lived at Caribou Ranch and wishing I would have been able to drive up there and hang out with the masters as they worked their magic. If I'm not mistaken, both "Barnstorm" and "The Smoker You Drink, the Player You Get" were recorded there. Superb albums. I'd love to hear Walsh perform "Turn to Stone" again. In any case, Walsh never disappoints and I've seen him live many times.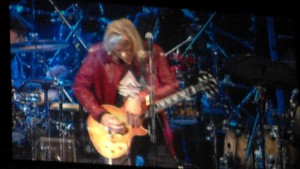 Come back again, Joe, and next time, play longer!
Joe's Setlist:                                                                                                                 Walk Away                                                                                                                 Analog Man                                                                                                                 Funk #49                                                                                                                            In the City                                                                                                                    Life's Been Good                                                                                                       Rocky Mountain Way
(There was one more song in there, but I didn't write it down!)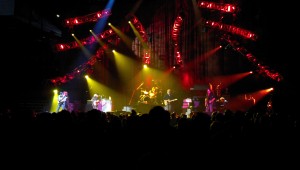 Bob Seger and the Silver Bullet Band
I love many different types of music, but there are times when nothing else will do but the familiar arms of good old rock 'n' roll.
The one and only Mr. Bob Seger. You know how great musicians have the ability to make time go in reverse for a few hours? Bob did that the other night. As he sang, his gentle melodies and beautiful voice transported me instantly back to my late teens/early twenties and held me there for the duration of the concert. Seger has a touch that reassures my soul, even when he's screaming "Rock and roll never forgets!"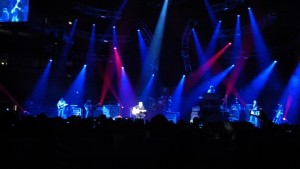 My first impression was that if I were to run ito him on the street, I wouldn't have recognized him. That's probably because I haven't seen him in concert since the '80s. Back then, he still had dark hair. Now his hair and beard are completely white (or grey) and he wore rectangular-shaped glasses. "I'll be 68 in May," he said, explaining why he needed to sit down for a few of his songs. Hard to believe, because although he didn't look like the Bob Seger I remembered, when he opened his mouth and sang, he was STILL the Bob Seger I knew. I hate that great musicians like Bob, who have brought so much joy and enriched the lives of so many, have to get old. People with that much talent ought to live forever. I guess in a way they do, through their music, but it just seems so unfair. I got the impression that there was a bit of a farewell tone in his stage presence but he still kicked it like there was no tomorrow, so I hope he never quits.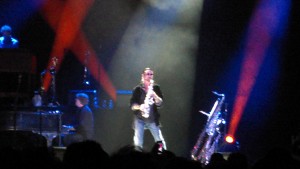 One of my favorite moments was during "Main Street," when several white spotlights lit up Alto Reed and his silver saxophone. I felt like stars were leaping from his horn, gently bouncing off the walls and entering my heart, and I asked my husband to take a picture, but all he had was his cell phone, and the picture doesn't do it justice. I noticed that even while I was there, when I watched the large screens on either side of the stage, it felt surreal–it was somehow so removed from what was really going on live.
There many were extraordinary performances that night, and the Silver Bullet Band was just as outstanding as they've always been, but the song that really stood out for me was "Like a Rock." There was so much emotion in Seger's voice that it brought me to tears and forced me to step back from my ordinary self—out of myself almost—and I breathed in the vibration surrounding me with all my senses—the purple, green and blue lights, the fantastic music and vocals. "These are the moments that make me a wealthy soul…" Bob sang and I felt it and believed it with all my soul.
"Roll Me Away" was so magnificent that I never wanted it to end. Sometimes there are no words to describe music, and all I managed to jot in my tiny notebook was "FREAKING MAGNIFICENT!" I couldn't even tear myself away from the experience long enough to put my feelings into words. Anyway, it seemed like a travesty to waste time taking notes when there was so much great stuff happening.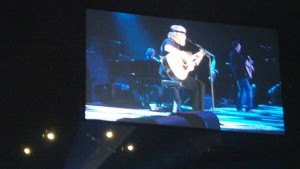 Bob talked candidly about the origins of some of his songs, including a new song he's recording called "California Stars" which he said was written by Woody Guthrie. "We've Got Tonight" was inspired by the movie "The Sting" and was originally titled "This Old House." Seger played piano as he sang "We've Got Tonight", as well as "Turn the Page," another of my favorite Seger hits.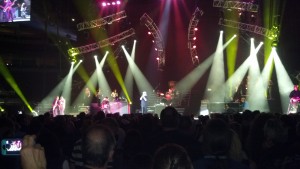 If I had to sum up the evening using Bob's lyrics, it would be: "We've got tonight. Who needs tomorrow? We've got tonight babe, why don't you stay?"
Thank you, Bob. I hope you're not planning on going anywhere for a long, long time… (Why do I have a lump in my throat just writing this?) Love ya, Bob.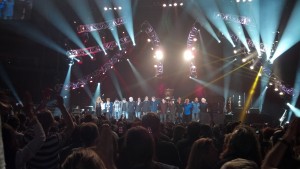 Silver Bullet Band Musicians:
Bob McMillan – guitar
Chris Campbell – bass
Don Brewer – drums
Jim Moose Brown – guitar and piano
Craig Frost – piano
Alto Reed – saxophone
Horns: Motor City Horns: Keith Kaminski-sax, John Rutherford-trombone, Mark Byerly-trumpet, and Bob Jensen-trumpet
Setlist:
Tryin' to Live My Life Without You
Fire Down Below
Main Street
Old Time Rock and Roll
All the Roads (New song)
Like A Rock
Travelin' Man
Beautiful Loser
Roll Me Away
Come to Poppa
New song
We've Got Tonight
Turn the Page
Sunspot Baby
Katmandu
Encore:
Against the Wind
Hollywood Nights
2nd Encore:
Night Moves
Rock and Roll Never Forgets