Please join author Patricia Walker as she, along with other members of Northern Colorado Writers, will be reading excerpts from their work from 7:00-9:00 p.m. this Tuesday, Sept. 30, 2014 at Bas Bleu Theater in Fort Collins.
Following the reading, authors will be selling and signing copies of their books.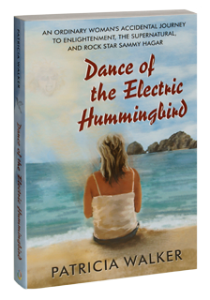 Walker is donating 100% of her share from sales of Dance of the Electric Hummingbird at the event to benefit the people of Cabo San Lucas, Mexico, who recently suffered severe damage as a result of Hurricane Odile. NBC News reported that Odile was the worst hurricane in history to ever hit the Baja peninsula. No deaths have been reported but the majority of residents have very little to begin with and many lost everything.
Says Walker:
There really hasn't been much in the news about what happened down in Cabo recently. In fact, most people I talk to haven't even heard about it. But if it weren't for Cabo, and the wonderful people who live there, my book would never have happened. DANCE OF THE ELECTRIC HUMMINGBIRD is the true story of mystical events that changed my life and it all started in Cabo. I feel that the least I can do is to give something back to these people. Hurricane Odile made a devastatingly direct hit in Cabo San Lucas, San Jose del Cabo, Todos Santos, La Paz and neighboring towns on September 14, 2014, two weeks ago, and as of today, many residents still do not have electricity or water, nor can they return to their homes to determine if their homes are still standing. The airport was severely damaged.
They're making progress down there, but it's still very bad. I can't just sit back and not do something to help.
When most people think of Cabo San Lucas, it brings to mind the world-renowned arch or El Arco, extraordinary fishing, fancy hotels, vacations, beaches, sun and margaritas. And while those images do describe Cabo, it's also true that there are some very poor people who live there. It's a stark and shocking contrast.
Cabo pretty much has no middle class. With a few exceptions, people who live there are either dirt poor or movie-star wealthy. I have personally witnessed people living in cardboard shacks without plumbing. The lucky ones are those who work at your fancy hotels–who tirelessly serve your margaritas and guacamole and chips, but they certainly don't live in mansions, nor do they live in middle-class-type houses.

Then there are those who spend all day every day tramping up and down the burning sand on the beach and hawking trinkets in the scorching sun–even the elderly who can barely walk and children who can't be more than 3 years old.

We take so much for granted in the United States. We have no clue how good we have it compared to most of those people. And now, many of them lost everything they had.

Some may question why I'm asking for donations for the people of Mexico when there are so many in our own country who are in need. My response to that would be: donate to whomever you like; just do SOMETHING. People are people wherever they live. Do what you can. It all helps.

We can also help by booking our vacations to the Los Cabos area in the near future. Our dollars will help these people get back on their feet.

Donations from purchases of my book will only come from those that I bought personally from my publisher, not from the sale of books from Amazon.com or other outlets. This is coming straight out of my pocket. I'm hoping to keep contributing to various charities in Cabo as long as I am able, but obviously I can't afford to do it indefinitely.  If you buy a book from my website, you'll have to pay for shipping, but 100% of what you pay for the book will go to the people of Cabo. And I will post which charity it's going to so you'll know exactly where your donations are going.

Thank you. Thank you. Thank you!
Because I personally know most of the people involved, current donations are being made to: Wicked Pizza Employees/Family at http://www.gofundme.com/envqes
So please, if you can, come support Northern Colorado Writers this Tuesday, and buy a book for yourself or for a friend. Or just come and hear some great stories. For more information on the event: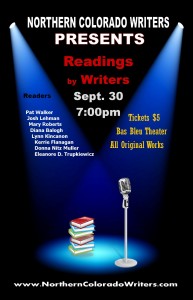 Enjoy an evening of readings by local writers on September 30 at 7:00pm at Bas Bleu Theater. There will be poetry, excerpts from novels and essays. Written and read by members of Northern Colorado Writers: Josh Lehman, Lynn Kincanon, Mary Roberts, Diana Balogh, Pat Walker, Kerrie Flanagan, Eleanore D. Trupkiewicz and Donna Nitz Muller. Doors open at 6:30pm and admission is $5.
Refreshments will be served following the readings. Books by NCW members will be available for sale in the theater lobby.
Please be aware that this is a PG-13 event if you are thinking about bringing children.
*This is not a Bas Bleu Theater Company event.
Tickets available at the door or for online tickets, please click here: http://northerncoloradowriters.com/upcoming-events-mainmenu-133/upcoming-classes-and-events/special-event/readings-by-writers
**All photos used by permission. Please do not copy without permission.