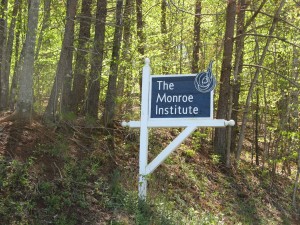 It's been a month since I returned home from my six-day Gateway Voyage program at The Monroe Institute (TMI) in Faber, Virginia. TMI specializes in exploring altered states of consciousness, out-of-body experiences and peak human performance and they use sound frequencies (Hemi-sync© binaural beats) to induce these states.
As the old song by Jim Stafford went: "Take a trip and never leave the farm!" Indeed.
"Hemi-sync" is short for "hemispheric synchronization," or the coordination of both left and right sides of the brain to stimulate expanded awareness and more focused human performance. Wearing headphones, the listener hears similar but slightly different beats played in each ear. For example, the listener might hear a beat of 100 Hz in one ear and 104 Hz in the other. The brain then interprets the difference of 4 Hz as that of a third beat, which it mimics, creating theta brain waves, which is the brain's natural state of deep relaxation and increased learning. And when combined with an atmosphere with minimal or no outside sensory input, the mind is capable of incredible things. Therefore, each participant is assigned his or her own CHEC unit complete with headphones, volume and light controls, and a black drape to block out noise and extraneous sound and light.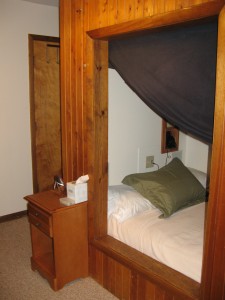 CHEC Unit                                                         (Controlled Holistic Environmental Chamber)
Founder, Robert Monroe, strove to keep his research scientific and credible, so in developing his techniques, he worked with many professionals including psychiatrists, psychologists, physicists, and electronics engineers to name a few. It was crucial to him that his research was considered valid in the scientific community. And this was one of the reasons I wanted to attend TMI. What they offer there is not spiritual shenanigans. The human brain is an amazing instrument and capable of far more than we realize.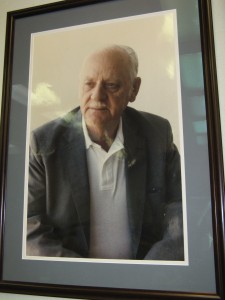 Robert Monroe
I've been going over the notes I took while I was there in order to process the incredible things that happened to me. There were many. And some were intense. Not for the faint-of-heart. After six days of lying in the dark on my back in my cubicle with headphones on, the experiences I had will probably take me years to absorb, but I thought you might be interested in a little introduction here, as I continue to sort everything out. Some of my deductions thus far:
Death of the physical body is not the end.
If we were to use just a tiny bit more of that which our brains are capable, we would be able to accomplish more in our lives than we ever dreamed.
NOTHING is impossible.
I have complete and total control of my life–my thoughts, my deeds, my circumstances–and I can change these any time I choose.
The physical world is an illusion. Our perceptions of what is real and/or true are based on our beliefs, our thoughts, our heritage, our religious teachings, society, and many more influences.
I am so much more than my physical body.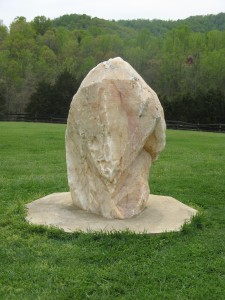 Crystal on the property
So, what exactly did I experience? How did it feel? Why would anyone take the time to explore something like this? Wasn't I scared? Did I experience other levels of consciousness? Did I leave my physical body? Did I encounter intelligences from other dimensions?
Stay tuned!                                                                                                                    (PS–the answer to the last four questions is yes.)