"Pat Walker takes to heart the same type of messages I try to relate through my music and my life—go out and seek your dreams, don't ever give up, celebrate your life and every part of who you are. I know Pat's journey of mystical transformations will inspire you. Enjoy the journey."
—SAMMY HAGAR 
"Society sells us the idea that we could ever be alone, unworthy, and powerless. Patricia Walker shared those beliefs – until life blasted her free. Her story shows what can happen when you get those beliefs out of your way."
—FRANK DeMARCO,  Author of The Cosmic Internet 
"Pat Walker's memoir is a joy. It is Eat, Pray, Love for the common woman — you know, the vast majority of us who can't travel the world because we're stuck at home, doing laundry and driving kids around. I laughed out loud, but I also discovered that serious transformation can occur when one is open to it. In other words, it gives me hope."
—LAURA PRITCHETT, Winner of PEN/USA Award
and Milkweed National Fiction Prize
"Dance of the Electric Hummingbird is rich with symbolism, feeling, and message. It's alive with it. It gave me goosebumps. Some of the scenes just took my breath away. Such a powerful, powerful story. It's about finding God and we all want that in our lives."
—KRISTIN HUNGENBERG, Certified in Epona: Equine Facilitated Experiential Learning
 "A smoky, crowded bar in Cabo San Lucas, Sammy Hagar and his guitar, and one woman ready to begin her spiritual journey . . . Dance of the Electric Hummingbird is an irresistible combination. A great read."
—PATRICIA STOLTEY, Author of The Prairie Grass Murders
and The Desert Hedge Murders
"I feel like I was meant to read Dance of the Electric Hummingbird. So much to think about, an amazing story, great writing with such a real and lovable and distinct voice and humor. I have about 20 sticky notes with quotes from your book to remind myself about what I need to keep in perspective."
—JENNIFER CARTER, Author and Editor
"I experience an energy to your story that is very catchable. Some things can't be taught but can be caught. You're going to help people catch your experience and then catch their own because nobody necessarily taught you how to experience what happened."
—GAYAN GREGORY LONG, Professional drummer
 * * * * * * *
DANCE OF THE ELECTRIC HUMMINGBIRD received the award of "Merit Book" at the 2013 CIPA EVVY Awards banquet on Saturday, May 18, 2013.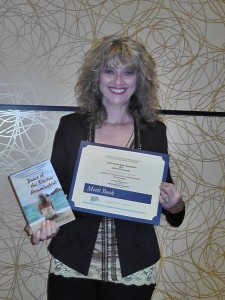 AUTHOR PATRICIA WALKER WITH WARD LUCAS
Master of Ceremonies Ward Lucas, former TV anchorman and journalist for Channel 9 News in Denver, read the names of the winners. To have been chosen among the many books entered, and to have received this award for my first book is a thrill and an honor beyond words.

"DANCE OF THE ELECTRIC HUMMINGBIRD" DISPLAYED WITH SOME OF THE OTHER NOMINEES
A heartfelt "thank you" to the judges of CIPA, to my publisher Robert Friedman of Rainbow Ridge Books and Anthony Pomes of Square One Publishing and to Sammy Hagar for believing in me. Thank you, Aaron Hagar, for the outstanding work you did on the cover painting, and last but certainly not least: thank you to my publicist, Sara Sgarlat, my husband Dee Walker, my family, friends, and readers and to all of YOU for your continued love and support.
I couldn't have realized this tremendous accomplishment without you. Thank you! Thank you! Thank you!