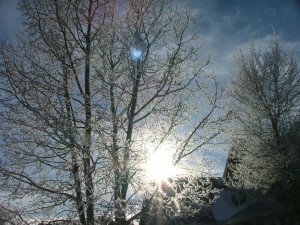 This is coming from my heart. Unedited.
Six years ago today, I was stepping into my car, getting ready to go to work, when the phone in the garage rang. It was my brother, telling me that paramedics were working on Dad and it didn't look good.
But it was too late; they couldn't save him.
My precious father left this world just days before Christmas in 2005. We were a close family. Mom joined him 51 days later.
To me, Christmastime is family time. A time to relish the blessings I have in the form of my loved ones. And every year, I go overboard in spoiling them. I figure, what good are material things if not for sharing with others? According to my husband, I spend too much money on my family and friends at Christmas. I bake too many cookies and make too much candy; I have too many decorations and too many corny Christmas CDs. It's true. I do. I can't help it. It's not because I think giving material things or causing people's waistlines to expand are the most important aspects of the holidays, it's because I use these things to honor those I love. Because to me, it wouldn't be Christmas without the cooking, baking, gifts, and decorations, but mostly, it wouldn't be Christmas without my friends and family.
And because of this, coupled with the fact that we lost Dad right before Christmas, I miss my parents more than ever during the holidays.
So last night, before I sat down to meditate, I was thinking about how much I missed my dad and I wrote in my journal about how badly I wished I could see him again—hug him, smell him, look into his eyes. And as I meditated, drifting to that place of serenity in my mind, I "saw" a black tunnel about twelve inches in diameter. The opening was small and it grew wider on the opposite end, like a funnel with the small end facing me. The inside of it was swirling and there were wisps of white stuff floating in it like threads of cotton candy. And suddenly within the tunnel, like the image from an unseen projector, was my dad. He was much smaller than in human form and he was walking toward me, calling me by the pet name he used to call me when I was a little girl.
Was all this just my imagination? I wondered.
Still maintaining the controlled breathing I use during meditation—slow, rhythmic, even, measured—I opened my eyes. And then I saw it—the outline of something moving and transparent like liquid egg whites. I could see primarily just the edges of it near the dresser in my bedroom. It was the shape of a human, but I didn't recognize it as anyone in particular. And it was about eight inches shorter than an average adult.
A tingling sensation went down the back of my head and down my spine. Tears flowed from my eyes. I knew then, that the sensations I was getting, were my body's way of telling me that this apparition was the spirit of my dear father.
I said out loud, "Is that you, Daddy?" as tears ran down my face and my nose began to run.
There were no verbal or intuitive messages from the spirit, so once again, my mind told me, "You're just imagining all this because you want so desperately for it to be so," but at the same time, a part of me knew. My body knew; the chills I felt were not imagined.
I told my father that I loved him. I told him how much I missed him. And the spirit lingered for a long time, as if it was working very hard to make itself more recognizable to me, but it never quite accomplished that.
Before I knew it, I laid down on the bed and fell asleep. I never sleep soundly, but last night I did. I slept like a rock.
Perhaps this sort of thing happens to other people on a regular basis, but it has never happened to me before, which was why my mind kept telling me it was just my imagination. But I've heard it said that imagination is the bridge to the world of spirit. I also believe that at Christmastime, there is a kind of magic in the air even more so than at other times of the year. Ever since I was a little girl, I've believed this. And what we believe is more powerful than any amount of scientific justification, is it not?
I believe this was the greatest Christmas gift I could ever have received—the gift of love from beyond what I see with my eyes—the gift of love, which never dies.
Wishing you and yours the blessings of love and joy in the coming year.
–Baja Rock Pat