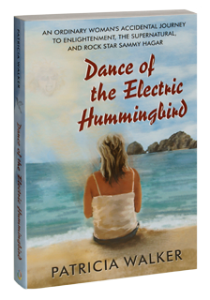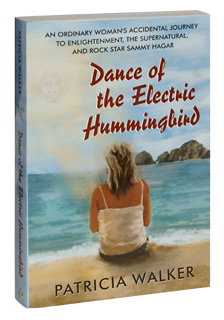 Please join Patricia Walker, author of Dance of the Electric Hummingbird: An Ordinary Woman's Accidental Journey to Enlightenment, the Supernatural and Rock Star Sammy Hagar for a book signing event:
Sat., May 5, 2012
noon – 3:00 pm
Marcus Ashley Fine Art Gallery
4000 Lake Tahoe Blvd.
South Lake Tahoe, CA
(530) 544-4278
Dance of the Electric Hummingbird is fully endorsed by Sammy Hagar:
"Pat Walker takes to heart the same type of messages I try to relate through my music and my life–go out and seek your dreams, don't ever give up, celebrate your life and every part of who you are. I know Pat's journey of mystical transformations will inspire you. Enjoy the journey."
–Sammy Hagar
Aaron Hagar, Sammy's son, did the cover art for this book. And this event will be held at the very place where Aaron often displays his work–the fabulous Marcus Ashley Gallery. Says Pat,
It is truly an honor to have the wonderful people at the Marcus Ashley Gallery host my book signing. I am so excited to be there and grateful for everything they've done for me. You couldn't ask for finer people. Do yourself a favor and check out some of their amazing art while you're here.
As a way of saying "thank you" to all of you for your support, Pat will be offering a 15% discount off the price of her book and all those who purchase a copy during the event will be entered into a drawing to win Chickenfoot, Van Halen & Sammy-related prizes.
Time permitting, there will be a short talk, a reading of excerpts from the book, followed by a Q & A session.
Also joining Pat and signing books, will be Elizabeth Patterson, author of the fantasy/fiction novel "Bonners Fairy."
Please stop by and say hello!