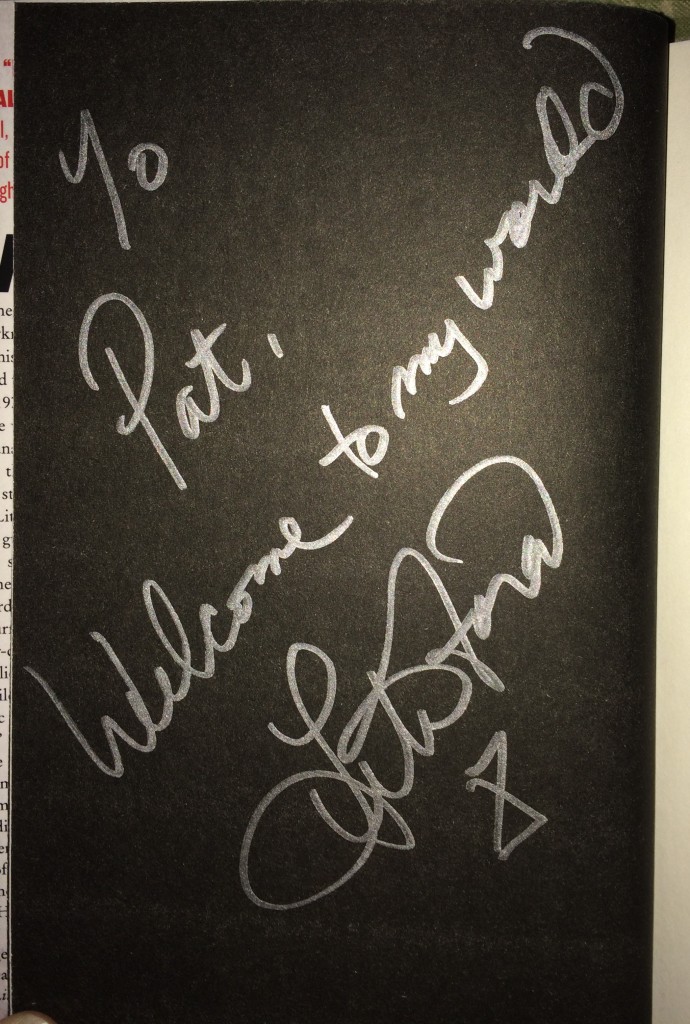 I wish I could bottle the feeling inside of me right now and give you all a big swig. I apologize if this post is fraught with incongrity; I am still high from what happened the other night, but I wanted to share it right away while the feeling was fresh within me. WHAT A FEELING!!!! An effervescent, sparkling, dizzy, fizzy, in-love type of ecstasy!
Friday night, I met the indomitable Lita Ford.
How is it that rock stars can make me feel this way? Is it their celebrity status and the fact that they sometimes take time for little ol' me? Is it their music? Music has to be the most effective tool in the universe for transmitting feelings and emotions—those of power, or those of destruction and depression. Those of helplessness or those of joy, accomplishment, self-confidence and of making a difference in the world. Like that of a true friend, holding your hand when you're down and celebrating your achievements when you're higher than a kite with joy. I'm not talking about drug use here. I'm talking about the sort of high that comes from living life to its fullest and appreciating every strand of it.
I can't imagine my life without music.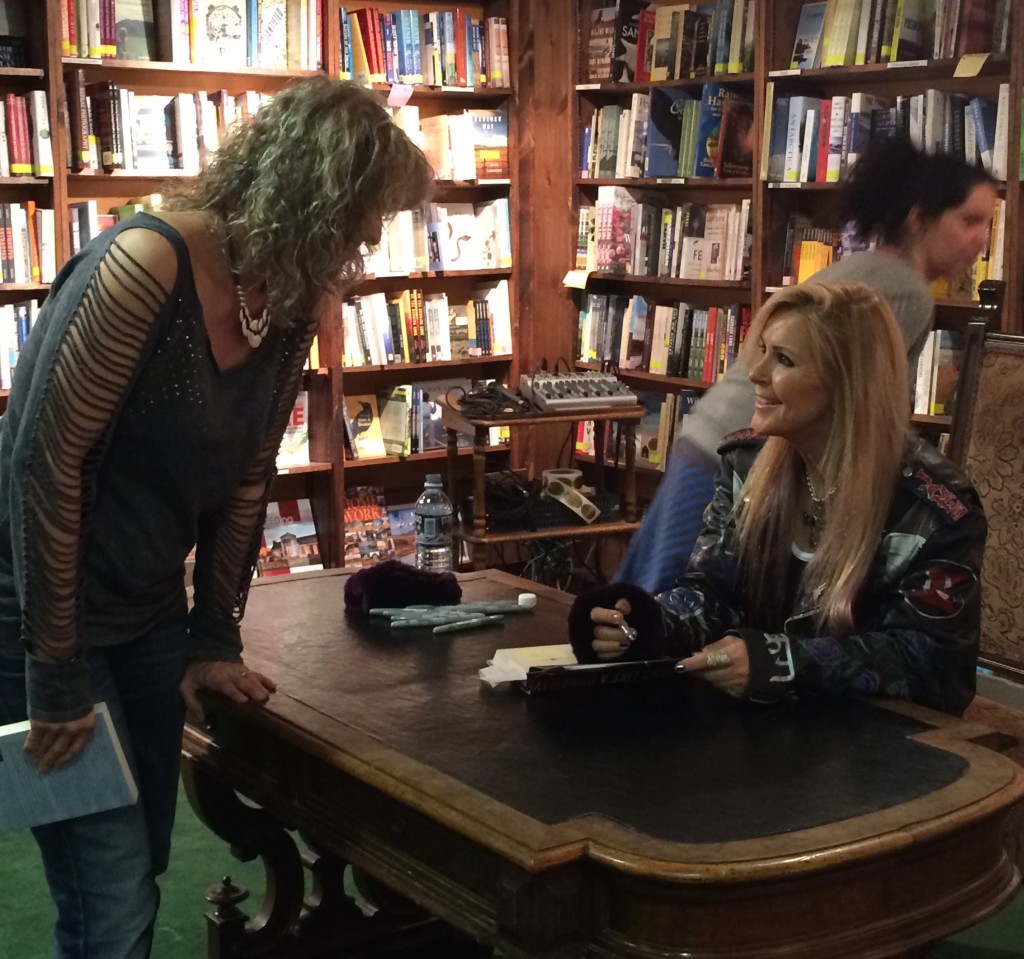 So… The rep from my publishing house contacted me the other day and told me that rocker Lita Ford, former award-winning guitarist of The Runaways, had just published her new memoir, Living Like a Runaway. He said that she and I wrote about many of the same things—abuse, rock and roll, the deaths of our parents, and a rebirth and re-emergence of sorts because of rock music, coupled with a burning desire to bring awareness to the issue of the crippling jaws of abuse and to make a difference in the world. Of course there are differences between Lita and me, I mean, she's a rock star; I'm just a small town author, but we also know a few of the same people.
The world is a funny and small place sometimes, and I've learned, through the writing of my book, that celebrities are people just like the rest of us. However, the other night, when I offered to give Lita a copy of my book, Dance of the Electric Hummingbird, and she asked me to sign it for her, offering me her silver, thick-tipped sharpie and I went to write, my hand was shaking so badly I could hardly write. The thoughts going through my mind were, "I'm writing her name—To Lita!" and "There are a lot of people behind me in line and I'm taking up too much of her time. I shouldn't!"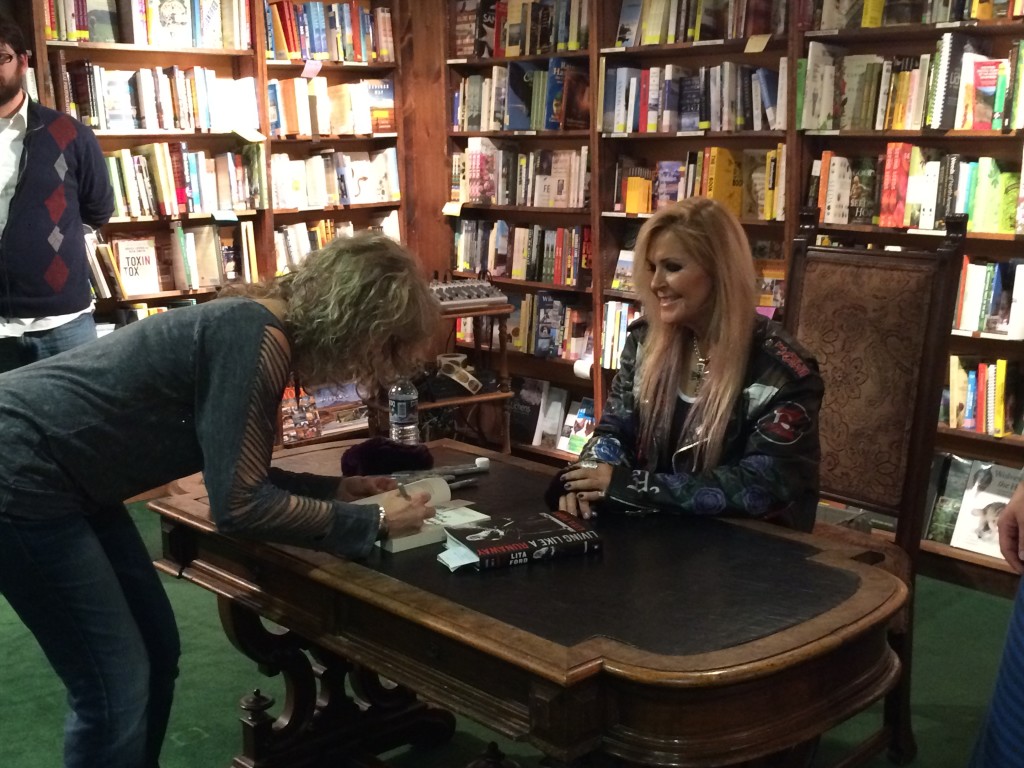 But she didn't seem to be in a hurry. We chatted for quite a while, and I felt like I could have talked to her for much longer than I did.
When I mentioned some of the things we had in common, and that my book was fully endorsed by rock star Sammy Hagar, she seemed impressed. When I told her that I, too, had been abused by my first husband, I could see the compassion and sorrow in her eyes. When I mentioned the names of a few of the people we both knew, she laughed. She knew exactly who they were, and she gave me a message to deliver to one of them.
"Breathe, Pat," I reminded myself.
Okay, so I'm on the fringes of this rock music business; I'm not on the inside and that's okay. I'm not trying to get on the inside. I honestly don't want to be in the limelight, but I wouldn't mind my work speaking for itself. However, I find it fascinating that I am where I am. Before any of this stuff happened to me (the events I wrote about in Dance), I was just a stay-at-home mom quietly raising three teenage sons in suburbia, driving them to soccer practice and viola lessons in my minivan and finding innovative ways to combine Bisquick with whatever I had in the freezer to make something for dinner each night that bore at least a slight resemblance to a healthy meal that tasted good. As Sammy Hagar so eloquently put it, "Pat was just a fucking housewife; she had nothing going on!" Ahem. Well…
While I was waiting in line for Lita to sign her book the other night, I met a man from San Diego named Robert Yehling. Bob is also an author, and he had planned to give Lita a copy of his book, Stevie Salas: When We Were the Boys that he co-wrote with rock musician Stevie Salas. Bob told me that he had been a journalist and had interviewed a lot of rock stars. He'd also ghostwritten many books for and with them.
My heart began to sing! I want to do this too! Right now, my book, Dance of the Electric Hummingbird, is lying on my garage-sale-purchased, pitted and beat-up wooden desk all by itself, (on top of all the clutter, I mean) and it's been screaming for a companion for a very long time. I still get letters from readers all over the world telling me that my book changed their lives and asking me when I'm going to write another. And I need to because something is churning inside of me like a volcano ready to explode.
Chatting with Bob, I began to feel like I'd known him for years. He said I needed to get my book on the shelves at the Tattered Cover Bookstore in Denver (which is like THE biggest bookstore in Colorado; it's like OD'ing on books for a book junkie) and proceeded to introduce me to one of the managers there so we could begin to make that happen. Bob said that he and I should do some book signings together since we both wrote about rock music themes. I replied, "YES! Let's DO this!!!"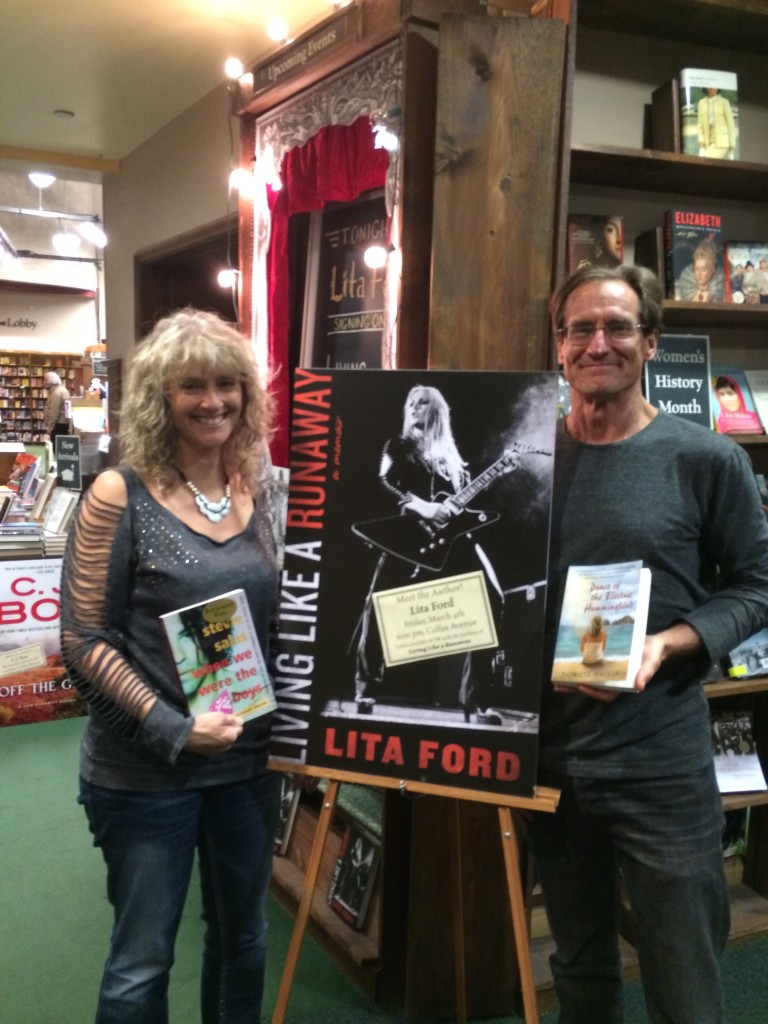 At the end of the evening, Bob and I bought each other's books and had each other sign them, vowing that we would keep in touch. Holding each other's books, we posed next to the poster of Lita Ford.
By the time I walked out of the Tattered Cover, I was so high, that my friend Carol, who was with me, had to catch me before I stepped off the curb into oncoming traffic as I went to cross the street. If I'd been hit by a car that night, I don't think I would have even felt it; it would have bounced right off me.
I didn't get the chance to tell Lita everything I wanted to tell her. I wanted to tell her how I plan to donate copies of my book to women's shelters and women's organizations to demonstrate to abused women that they don't deserve to be treated like that. To show them that there is hope, and that they have a choice. My book is the perfect example of how I went from being a victim of severe abuse to realizing my lifelong dream of being a writer, and if I can do it, so can everyone else.
But even if I never hear from Lita again, what she gave me Friday night is something I will never forget. I mean, a big star asking me to sign my book at the expense of taking up time for all those other people in line. Of her taking the time to connect with me… I felt like a star myself.
Sammy Hagar has made me feel like this before too—many times. If you haven't read my book, you should. It's all in there.
How I wish I could bottle this feeling and share it with you. Everyone deserves to feel this way at least once in his or her life, an ecstasy resulting from hard work, accomplishment, perseverance and from a belief in one's self that transcends reality, combined with being recognized for having done so.
Here's to YOUR joy! Cheers!
Order Lita's book here: Living Like A Runaway
Lita is raising awareness for this cause: Parental Alienation
Order Robert Yehling's book here: When We Were the Boys