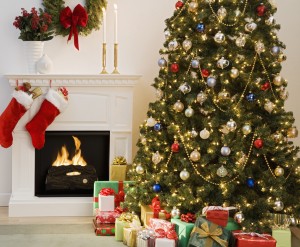 I've already shed a few sentimental tears this past week—at my cousin's photo of her kids brandishing candy canes and big grins, all bundled up and piled in the car as they get ready to go cut their annual family Christmas tree; at the silly Christmas program on TV yesterday when Santa Claus made his entrance ho ho ho'ing as he passed out candy to those in attendance; at songs like "A Mother's Christmas Wish" by Olivia Newton John (and I don't ordinarily even like her music) and "Believe" by Josh Groban; and at movies I will always treasure, no matter how corny they seem to anyone else: "The Homecoming," "Prancer," "Christmas Vacation," the cartoon version of "How the Grinch Stole Christmas," and the puppet versions of "The Little Drummer Boy" and "Rudolph the Red-nosed Reindeer."
It's funny, isn't it? How a holiday can have such a profound effect on a person.
You see, Christmas has always been my favorite time of year—a time of joy: the intoxicating smells of evergreen, baking cookies, roast turkey, hot cocoa, a fire in the fireplace, stockings hung by the chimney with care (as my dad used to say), colored lights and sparkles everywhere, the anticipation of the looks on my kids' faces on Christmas morning, and the way my heart overflows with joy when making others happy. I get caught up in the rush of it all, yes, the chaotic craziness, fights with my husband because try as I may (and I really DO try), I always end up spending too much, but I do it because I want to make that one special day perfect for my family. My mother used to do the same, and those are memories I will never forget. They are the stuff that made me believe, and never stop believing—that dreams really do come true, and that real love never dies.
The older I get, the more memories I now associate with Christmas, and although all of them used to be good, that is no longer the case. My precious father died unexpectedly just days before Christmas in 2005, followed by my mother in early 2006. In deep shock and inexplicable horror, we were forced to bury Dad on a snowy and cold Christmas Eve that year. It's hard enough to enjoy the holidays after you've lost a loved-one, but even harder when you lose someone during what to me had always been the happiest season of all.
But, such is the price of getting older, I guess.
My tears during the holidays now come with mixed emotions—joy for the family I still have, and the grandchildren who now grace my home with the laughter, excitement, and innocence my own children used to exhibit—and a longing for those whom I once adored but are no longer here in the flesh.
Each year though, they send me signs that they are still with me in spirit, signs that my husband would say are mere coincidence—like how my husband's computer turned on all by itself the other night—the screen suddenly bursting with a bright, blue photo of the ocean, desktop icons along one side. I got up to turn it off, but since it's a version of Windows I'm unfamiliar with, I couldn't figure out how, so I simply turned off the monitor. The next day when I told him about it, my husband said that that was impossible; the monitor wasn't even connected to the computer; it couldn't have turned itself on or displayed that photo.
But it did.
And, when getting out of the car two weeks ago, I clearly smelled the scent of my dad's pipe. Impossible.
Not impossible. For me, Christmas prompts me to treasure the blessings I have—a roof over my head, food in my belly, and all the other material things I have, but most of all, Christmas is a time to remember that real love never dies, and to treasure those whom have blessed my life in so many ways.
Thank you for blessing my life. (Written with a tear in my eye and a lump in my throat.)