Budweiser Events Center
Loveland, CO
August 20, 2013: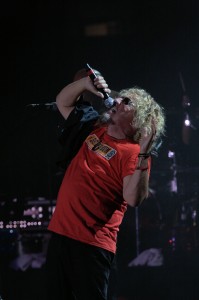 I cannot write an objective review of Sammy Hagar's concert in Loveland because well, I am a little biased. He not only endorsed my book, "Dance of the Electric Hummingbird," but I've seen so many of his concerts now, I can't even count them all. However, I can tell you that he freaking ROCKED the Budweiser Events Center last month—even though there was a less than full house.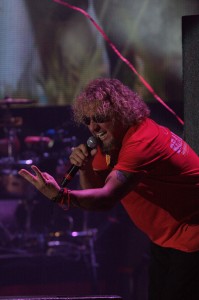 Said Sammy, "Well, it's not a full house tonight, but you sure SOUND like a full house!"
Indeed; the audience loved him—and why wouldn't they? At nearly 66 years old, Hagar had more energy than many men half his age, as he went from one fast song to the next. Only near the end did his voice begin to sound a bit scratchy—from the altitude no doubt, but his energy, and that of his band, The Wabos, (Vic Johnson on guitar, Mona on bass and David Lauser on drums) never waned. They killed it with four decades of Hagar hits, even giving a teaser of Hagar's new album, "Sammy Hagar and Friends," which was just released this week.
Vic Johnson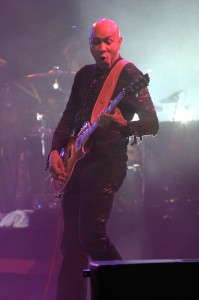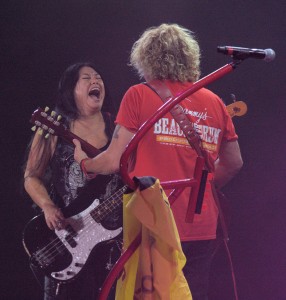 The show opened with a Montrose medley, then the band went into "Red," "I Can't Drive 55," "There's Only One Way to Rock," "I'll Fall in Love Again," and "Three Lock Box," from Hagar's early years, followed by a series of Van Halen greats: "Right Now," "Why Can't This Be Love," "Best of Both Worlds," "When It's Love," and "Finish What Ya Started." Then came "Heavy Metal" and "Mas Tequila," and the new song "Knock Down Drag Out."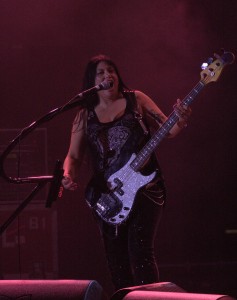 Mona on bass
For the encore, they performed "Winding Down," another song from his new album, followed by an emotional rendition of "Eagles Fly" and another new song, "Bad on Fords."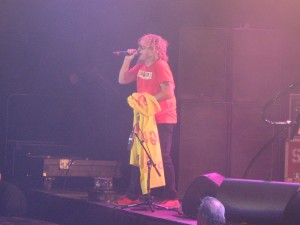 As usual, Hagar interacted with fans who threw banners, shirts, hats and other objects onstage for him to sign. It seemed he did his best to make everyone in the audience feel as if they were part of the show–it's one of the things that makes him such an entertaining performer. He also displayed the message captured in the photo below, as in each town he played, he donated money to the local food bank.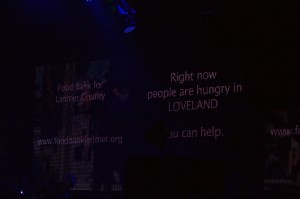 I'm not sure many entertainers would do such a thing, but Hagar knows what it's like to come from humble beginnings–his early life was anything but easy.
Perhaps part of the reason there weren't more people in attendance at the show was because Heart and Jason Bonham were playing the same night in Denver, and B.B. King and Peter Frampton were playing Redrocks.
No matter.
"We've never played in Loveland before," Hagar said. "But we'll be back!"
If the audience's approval was any indication, I'm sure he will be.
Photo Credits: Dee Walker. All rights reserved. Please do not copy without written permission.